Announcing the 7th Annual Utah Lake Festival
Now in its seventh year, the Utah Lake Festival has grown into a great opportunity to entice people to Utah Lake to partake in a variety of fun and educational activities all centered around getting people to experience Utah Lake and learn about its recreational opportunities, the lake's ecosystem, its native species and the importance of stewardship.  This year the Utah Lake Festival will be held on Saturday, June 4, from 10 am to 2 pm, at Utah Lake State Park, 4400 West Center Street in Provo.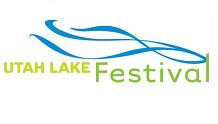 The Festival, which is free, will offer an array of activities for everyone, including the opportunity to make and wear fish hats—a unique and fun mainstay of the Festival, a sail boat regatta, games and activities for kids, boat making demonstrations, music and boat tours. In addition, visitors will be able to check out fishing gear and bait for free, with no state fishing license required. New this year will be lake-themed storytelling.  There will be some free food, such as hot dogs, apples, popcorn and water, and food items that can be purchased.
At the Festival, attendees will receive a "Utah Lake Festival Passport." The passports are used to collect stamps from educational and activity booths. Once attendees obtain all of the required stamps, they will receive a free gift item.
"The Festival is an excellent opportunity for residents to come out and enjoy the lake and learn why it's worth caring about," says Reed Harris, program director for the June Sucker Recovery Implementation Program (JSRIP). "Attendees can stroll along the banks of Utah Lake and visit the vendor booths and participate in educational and craft activities, take a boat ride out on the water, try their hand at catching a fish from the shore or just enjoy lunch with an extraordinary view."
The JSRIP, which is co-sponsoring the Festival, is designed to recover the endangered June sucker fish that lives only in Utah Lake and recover the ecosystem that it depends upon. The event is also sponsored by the Utah Lake Commission, a group comprised of local and government officials and state agency leaders, and Utah Lake State Park.
Even though Utah Lake, which spans 24 miles in length and 13 miles in width, is one of the largest freshwater lakes west of the Mississippi and is located in an urban core that is home to nearly 2 million people who rely on it and its tributaries for their drinking water, few residents think much about it and fewer take the time to actually visit it.
Historically, Utah Lake was used recreationally much more than it is today. More than 20 resorts once dotted the shoreline. Showboats, with live music and dancing, took people out for excursions to Bird Island, airplanes landed on sandy beaches to offer people rides, and for decades boat races were held as a Memorial Day mainstay in the Provo Harbor.
# # #