Welcome to the Utah Lake Festival. It will be held this Saturday, June 8, at 10 a.m. to 2 p.m. at Utah Lake State Park, 4400 West Center Street, Provo, Utah 84601. This is a fun and educational activity for your entire family and admission is free.  We hope you'll enjoy the many recreational opportunities Utah Lake has to offer and plan to participate in the free activities scheduled for the Festival. The goal is get people out to the lake to realize what a valuable resource it is culturally, recreationally, economically, and environmentally. We want people to walk away with a strong appreciation of Utah Lake, to know a little bit more about its ecosystem, native species, and the importance of stewardship.
There will be a variety of booths including kids booths (Donut Eating Contest – American Fork, City Fishing Pond – American Fork City; Storytelling – Orem City; Duck Races – Provo City; Fish Kites – Provo City; Fish Toss – Provo City; Fish Hat Making – Utah Division of Wildlife Resources), educational booths (BYU Museum of Peoples & Cultures; Central Utah Water Conservancy District; June Sucker Recovery Implementation Program; The Living Planet Aquarium; Native American Cultures; Provo River Watershed Council; US Coast Guard Auxiliary; Utah County Weed Control Division; Utah Division of Forestry, Fire & State Lands; Utah Division of Wildlife Resources (Invasive Species); Utah Division of Wildlife Resources (Tracks); Utah Lake Commission; Utah Lake State Park; and Utah Valley Earth Forum).
In addition, there will be water recreation booths and activities (Boat Rides– with Cross Marine Projects & Hand in Hand Outdoors; Fishing Poles & Bait– Salt Lake County Fish & Game Association; Fishing Target Casting– Utah Division of Wildlife Resources; Utah Lake State Park Water Recreation Rentals– Alpine Pinnacle Recreation;  Utah Summer Games; and Bonneville School of Sailing & Seamanship.  Also new this year will be a Boat Show — some rare and vintage boats, sailing vessels, and other watercraft.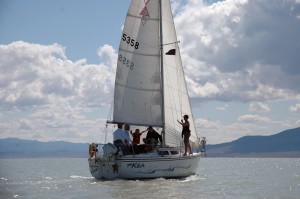 There will be a Summer Games Sailing Regatta also.  Come and watch the majesty of the sailing ships on Utah Lake.
Free water will be given at the large pavilion.  There will be a concessionaire with food to sell and equipment to rent.  After you get your "passport" stamped at the different booths, you can bring the passport to the  pavilion to receive a water bottle or Frisbee.
We hope to see you there.  For questions, call Utah Lake Commission at 801-851-2900.
For more information about the sponsors please visit www.junesuckerrecovery.org or www.utahlake.gov.  (Join us on Facebook https://www.facebook.com/pages/Utah-Lake-Commission/)